KAPDAA takes its textiles vision to India with the Global Business Innovation Programme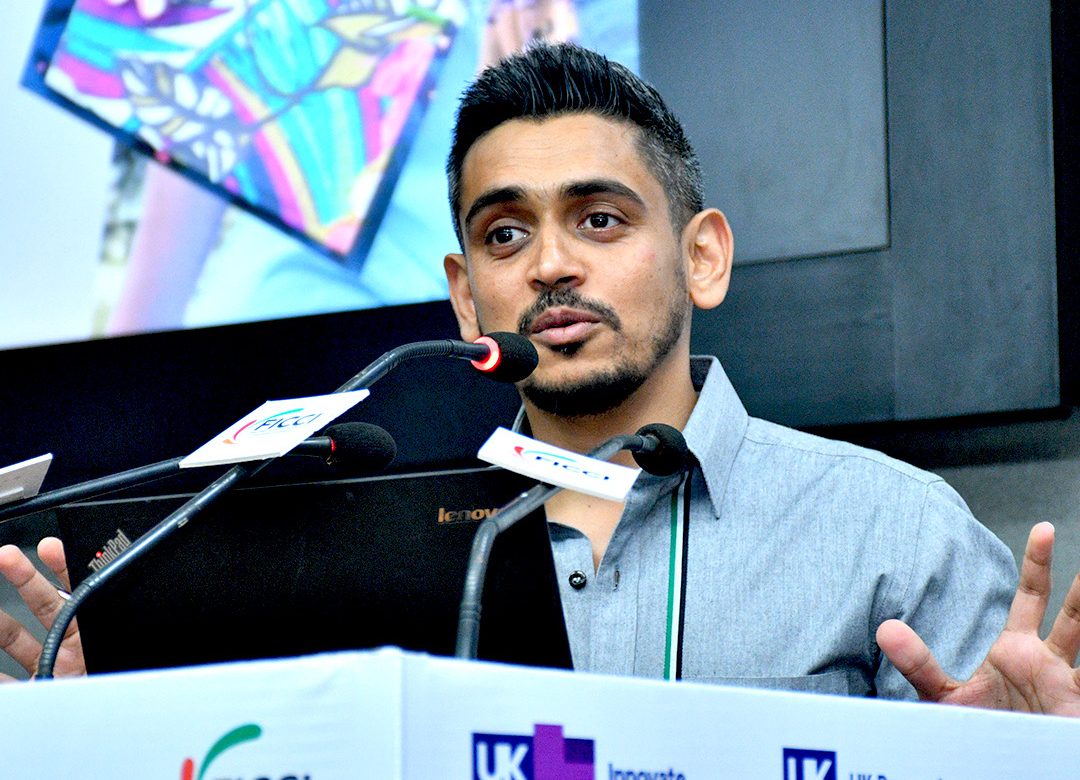 BIG Hot House participant KAPDAA jetted off to India last month on a trade mission to explore the development of ethical and sustainable textile creation.
Behind China, India is the world's second-largest textile and apparel producer. This booming industry generates more than 14% of the country's export revenue each year and offers 45m people direct employment across the country. But over the last decade, in particular, the fashion and textiles industries have found themselves embroiled in an ethical, sustainability quandary – whether that be over the environmental toll of dyes and materials, factory wages, or general welfare for those working in these fast-paced, demanding industries.
Sustainability and fashion have not previously had the strongest working relationship, but KAPDAA – The Offcut Company, set about changing that back in 2016. As a child, founder Nish Parekh had his roots firmly planted in the textiles industry. His mother, a fashion designer herself, introduced Nish to this world by bringing him into her studio and letting him play amongst the offcuts whilst she worked on her own garments. It was from these humble beginnings that the concept behind KAPDAA was formed.
"Where some might see waste on a workshop floor, we see a world of dazzling possibilities," Nish comments. "It's what drives us to wake up in the morning, grab an espresso, and dream up exciting items that turn fabric waste into products using small-scale, high-end artisans. By breathing new life into fashion waste, we have saved over 10,000 meters of fabric going to landfill over the last three years."
Nish had forged the idea to make something from nothing, transforming material scraps into one-of-a-kind, treasured gifts. In the years that followed, Nish's vision for KAPDAA only continued to grow. They secured offcuts from major fashion brands, and the team were able to transform these slices of fabric into beautifully crafted notebooks, wallets, and bags that contribute to the industry's now growing circular economy. The discarded fabric that would have otherwise ended up in landfill sites had found a new home as treasured items with a sustainably sound conscience.
Following their acceptance into BIG South London's Innovation Voucher programme and Hot House projects earlier this year, KAPDAA was also invited to become part of Innovate UK and UKRI's Global Business Innovation Programme. Along with 10 other UK-based sustainable fashion companies, the programme would take them to the Indian textile production and fashion hubs of Delhi and Mumbai, to explore how collaborative work between India and the UK could lead in the development of ethical and sustainable practices industry-wide.
"There were two reasons for us looking to go out to India. The first was to suss out the landscape of textile recycling and waste and see how they operate, and the second was to start conversations with recycling companies about how we could work together in a way that would be beneficial to both markets. We're in the process of developing new technology that utilises material offcuts, so we're ready to talk to the Indian market about any future opportunities."
The week-long trade visit involved networking opportunities with local officials, the UK embassy, tours of various factories and production centres, and presentations from key stakeholders in textiles production including UKRI and the British High Commission.
"We started the trip in New Delhi visiting FICCI, which is an Indian trade body for many different industries. They have a directory of thousands of businesses and had shortlisted certain organisations to come along and meet us based on what we were looking for."
"We took part in a Q&A and had a handful of one-to-ones with local companies who were interested in what we were doing in the UK. I actually ended up meeting with a recycling company which was a perfect match for what we were looking for. They invited us to visit their workshop and factory the next day, but due to the packed schedule, there, unfortunately, wasn't time to travel there. However, he still introduced us to his company and showed us what he was doing, and we talked about our projects with Kingston University and how we're trying to automate certain processes."
"Later that day we were also invited to the British High Commission for dinner which was unbelievable."
Nish met with British High Commission delegates and representatives from the UKRI, who seek out projects like KAPDAA's to assess their potential viability in both countries. KAPDAA are in the process of creating technology to aid in the minimisation of fabric waste and is looking at partners to take their technology to the global market.
They travelled to Delhi's National Institute of Fashion Technologies, a higher-education facility that offers courses in fashion, design, technology, and management. Here, the college is working to create an India-specific size chart, a key garment structure that standardises the sizing of clothes around the world. Of course, garment sizing and measurements vary dependent on the market, but India is yet to have created its own. And for a population of 1.93b people, this process, some may argue, is long overdue.
"Some Indian fashion companies follow US and UK sizing, whilst others sell with a 38, 40, 42 etc. There is no sizing standardisation in India." Nish tells me.
"NIFT is working on a scanner machine which measures sizing based on certain points of a person's body. So far, they have gathered data on around 25,000 people, including children too. The lack of consistency is a real issue for the Indian population, but this new size chart could revolutionise the fashion market there. Certain members of our group were asking the team at NIFT, 'Well, why do we need a fourth size?', but the answer is very simple – because India makes up a quarter of the world's population."
From Delhi, the party flew 1500km South to Mumbai for the second leg of their visit. Widely renowned as the Commercial Capital of India, Mumbai plays host to many of the country's fashion brands and retailers and has such, become an economic hub of activity for the wider textiles industry.
"Whilst in Mumbai, we met with a couple of brilliant companies who were asking us to offer solutions to their material offcuts. Of course, that's what KAPDAA is known for, so we explained what our product range looks like and how we could potentially collaborate when our technology was further along in its development. One was incredibly keen to continue the conversation and trial our prototype on their own materials, which is a great outcome from the visit."
But the trip wasn't all network and no play. The group visited a local textiles market in Mumbai and Lakmé Fashion week too, which uncovered some interesting revelations about the labour market's shift over recent years.
"People were commenting that they're already seeing a loss of skill sets in the next generation of workers. The pattern is already starting to emerge in India as it has in the UK over the last 20 years or so. When many of the technical schools closed in London, people were no longer used to seeing these industries operating on home soil. We don't know what manufacturing really is anymore… sitting on a factory line, manually putting a product together. People have become so used to the service industry, that upcoming generations don't want to learn about manufacturing, so we've managed to just lose an entire generation of skills"
"Similarly, in India, a lot of people lost their jobs in these small manufacturing units due to COVID, and to survive, they transferred into the gig economy. People who had those vital skills, and the knowledge to support them are now working as delivery drivers, and that's a shame. If they don't adapt quickly to reposition these workers back within their former roles, a similar thing is going to happen in India."
And even though this may be a cynical view of the textile industry's future, there were many positives which came from KAPDAA's visit. "It was an incredibly interesting trip. I'm still trying to process everything we took in over the week we were out there, but we had some fantastic conversations with people who are keen to learn more about what we do, and that's great. Now I just need to work through all the business cards I received!" Nish laughs.
KAPDAA has just launched its pop-up shop in the heart of Kingston. Why not pay it a visit and get ahead on the Christmas shopping curve? 9 Castle St, Kingston, KT1 1ST.
Recent posts