Partnership approach essential for South London Net Zero transition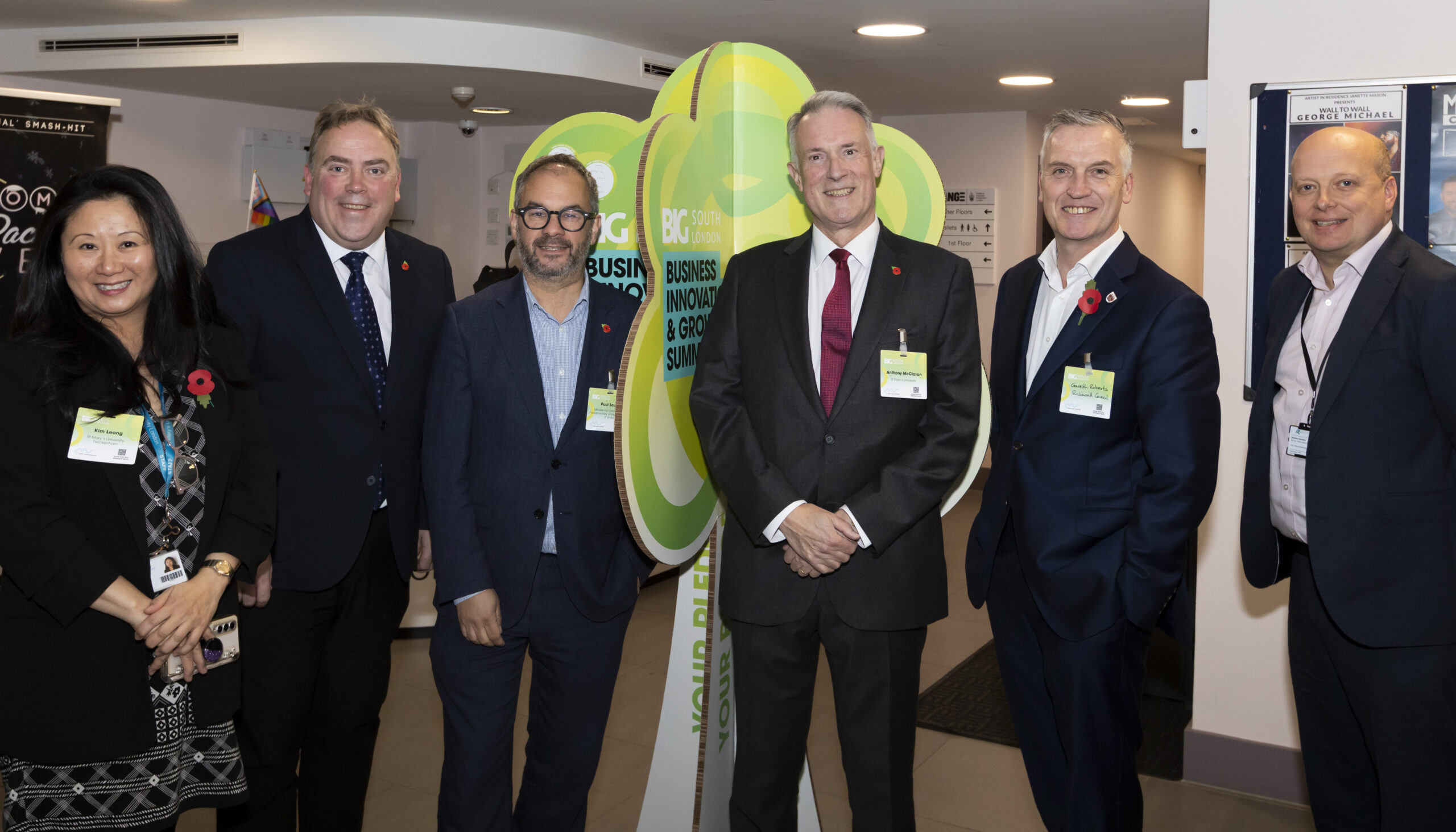 Pictured from left to right, Kim Leong the Enterprise Team Manager at St Mary's University, Mayor Jason Perry of Croydon, Former Minister for London Paul Scully, Anthony McClaran the Vice Chancellor of St Mary's University, Councillor Gareth Roberts the Leader of Richmond Council & Matthew Hamilton the Director of South London Partnership.
---
BIG South London's annual Business, Innovation and Growth Summit, which took place on 10 November at The Exchange, Twickenham, highlighted the need for all parties to come together to support South London's journey towards Net Zero.
Themed around South London's green transition, the event attracted an audience of over 200 delegates from across business, central and local government, higher education and the third sector. It provided a packed afternoon of keynotes, panel discussions and breakout sessions, which aimed to inspire discussion, forward momentum, and define action around climate change, which included:
A look at successful initiatives already happening in South London, such as Better Futures +, the Green Enterprise Partnership and the Just Transition Programme and how these could be scaled up
The green skills needed for a Net Zero Economy
The investment required to finance the infrastructure for the green transition
How we can accelerate Net Zero innovations into practical use.
Anthony McClaran, Vice-Chancellor, St Mary's University Twickenham, who opened the event, says: "2025 will mark 100 years since St Mary's moved to its current location in Twickenham, so we are an institution with incredibly strong local roots. We are therefore incredibly proud to open our doors to welcome local businesses, organisations and fellow South London universities for the Business, Innovation & Growth Summit."
"The climate emergency is of huge importance to everyone, and without a doubt, the Higher Education sector has a vital role to play in achieving Net Zero. Here at St Mary's, we're pursuing a stringent carbon management plan and beyond our own walls, working on an ambitious project to decarbonise all dioceses in the Catholic Church in the UK."
Some common themes emerged across all the topics covered, including the need to simplify language around Net Zero to make it more accessible to less engaged groups, for investment for retrofitting commercial and residential buildings, to harness rapidly evolving technology, for green skills training and strong partnership working between all parties including local government, businesses, higher education and residents.
Keynote speaker Jace Tyrrell, the new incoming CEO of Opportunity London, commented: "Our mission at Opportunity London is to drive business development and investment into London's real estate, regeneration, infrastructure, and energy. We want capital deployed across all 32 London Boroughs to fund new green infrastructure, EV charging, and retrofitting of old buildings at scale and pace. We know that if London has long-term investment in low carbon, in transport, into the new economies and living infrastructure, it means better outcomes for communities and thriving businesses here in South London."
The event also provided an opportunity to reflect on the impact that BIG South London has had to date. This has included funding £1.5m worth of innovation programmes to help regional businesses and communities develop new products and services and £11m into the creation of much needed new flexible and affordable workspaces across South London, such as the recently opened Patch in Twickenham. Since 2021, BIG South London has supported over 700 London businesses and organisations, helping to create 800 new jobs.
Matthew Hamilton, Director of the South London Partnership, the organisation which founded BIG South London, says: "We're incredibly proud of the impact that BIG South London has had to date, and we're not finished yet. More support is on the way in the new year for local businesses in the form of a new innovation programme which will be led by our partner university, LSBU. We've had a fantastic Summit here today. We've heard from a number of speakers who've all advocated for the importance of collaboration and working in partnership to ensure that we achieve our Net Zero ambitions across South London."
Winners of BIG South London's annual Innovation Awards were also crowned at the event. The BIG winner of the day was the University of Roehampton, which scooped the BIG South London Collaborators of the Year award.  The team at Roehampton were recognised for their leadership of BIG South London's Health & Care Innovation Network, the creation of a new South London Post Graduate Researcher Network and their involvement in award-winning Hot-House projects with Cassell Hospital Trust and Croydon Youth Theatre.
Richard Keogh, Pro Vice-Chancellor (Research and External Engagement), University of Roehampton, says: "We're delighted that the University of Roehampton has been recognised as collaborator of the year. Our ambition is to be recognised as the higher education partner of choice in South London, and this award is a recognition of our approach to collaboration, engagement, and impact. Working with BIG South London has been a fantastic experience, and we want to work closely with the businesses, charities, and public sector across South London."
Another notable winner was Robin Hutchinson from The Community Brain, who won Outstanding Contribution to Innovation in South London for his passion for creativity, his focus on empowering people, and his dedication to the arts and the local community.
The full list of winners is below.
A full summary of the discussions, insights and actions arising from the Business, Innovation & Growth Summit sessions will be available soon on BIG South London's website.
The full list of Innovation Awards is as follows:
Creative Industries Collaboration of the Year
Croydon Youth Theatre collaborating with Roehampton University
Health & Care Collaboration of the Year
Kingston & Roehampton Universities
Community Building Collaboration of the Year
Patch, Twickenham collaborating Richmond Borough Council
Community Innovation of the Year
Avanti Connect, Merton, collaborating with Merton Borough Council
Built Environment Collaboration of the Year
Oru Space Sutton in collaboration with Sutton Borough Council
Net Zero Collaboration of the Year
KAPDAA, collaborating with Kingston University
Outstanding Contribution to Innovation in South London
Robin Hutchinson, The Community Brain
BIG South London Collaborators of the Year
Roehampton University
Recent posts