South London Spotlight: Mohani-Preet Kaur Dhillon, Equal Representation in Academia initiative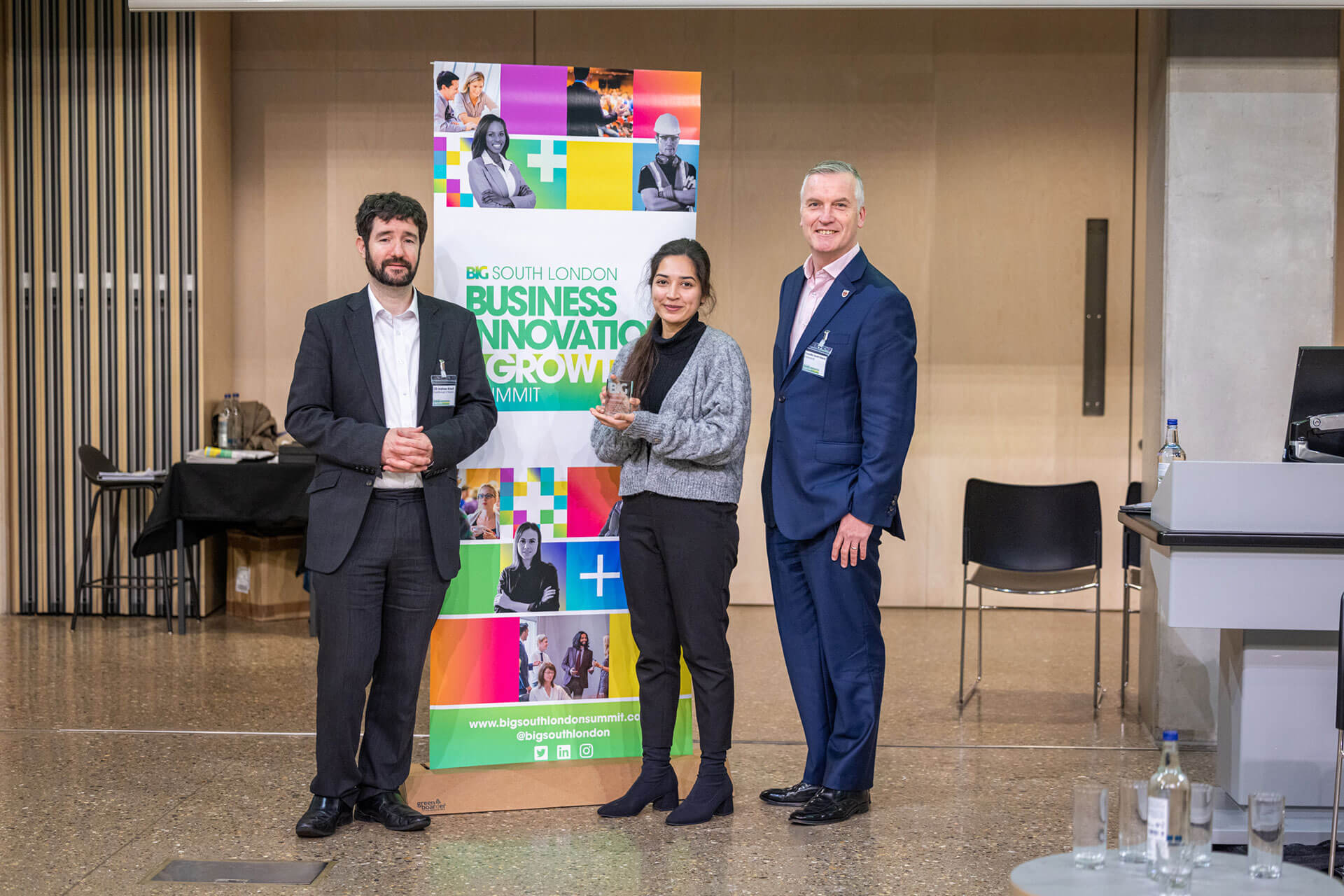 Celebrating the winners of our Innovation Awards at the BIG South London Business, Innovation & Growth Summit.
Back in 2018, the hashtag #mypathtomedicine flooded Twitter feeds around the world. As practitioners shared their personal stories of entering the field, the next generation of students looked on, inspired to consider the medical profession as a viable future career option. However, for those students applying from ethnic minority backgrounds, diversity in biomedical research remained minimal, with a strong majority of leading researchers being white men. Lack of inclusion is a recognised problem in the UK HEI sector, the problems span several characteristics (eg gender, age, and disability), but there has been a particular focus recently on ethnicity, race and alma mater (where their previous degree was awarded from). Mohani's Equal Representation in Academia programme sought to make this industry more accessible to hundreds of students across the region.
Dr Mohani-Preet Kaur Dhillon is a Postdoctoral Research Fellow and Tutor in Clinical Pharmacology at St George's University (a BIG South London partner university). Through her work at the university, she developed the Equal Representation in Academia (ERA) initiative, which aimed to raise awareness of academic research careers for students from statistically under-represented backgrounds.
The programme provides the opportunity for students from underrepresented backgrounds to gain valuable insights into academic research careers, to improve their graduate employability and support in the transition from degree to career. The programme is tailored to the individual student and provides hands-on research experience and funded studentships. Students also receive mentoring, networking opportunities, and bespoke career sessions to nurture the next generation of biomedical researchers. From her own lived experience, Mohani had begun turning the tide on the low ratio of students from underrepresented backgrounds progressing into the biological and life science realm.
The ERA initiative has had an accelerated impact, since its creation in 2021; the initiative has secured four national awards.
Former participant Samia Islam Tajbiha said, "The placement taught me so much about being a scientist, being a doctor, and the ability to be both at the same time. Not only can you enhance your professional network and career development, but you do all of this with the knowledge that the ERA initiative supports such an important ethos in addressing the lack of workplace diversity."
"Advocacy is a virtue valued by those in need of equity, and by taking part in this placement, you can advocate for the need of improved representation in the world of research and bring to light its importance in society."
Acknowledging that a lack of diversity in academia is not solely attributable to one university, the ERA team are now in discussions with other universities and organisations about rolling out placements more widely.
In response to this important initiative, Mohani was awarded one of BIG South London's new Innovation Awards.
The BIG South London Innovation Awards were a unique opportunity to recognise outstanding achievement in innovation and collaboration happening every day across our five boroughs. From promising new technologies to community collaboration initiatives, the winners brought extraordinary vision and ambition to our regional doors, inspiring their communities to push forwards and innovate.
Upon acceptance of the award, Mohani said, "I'm honoured to have been presented with the Outstanding Collaboration in Inclusive Innovation award. It's a huge boost that my work to build collaborative partnerships between higher education institutions in South London has been recognised. Collaborating in this way allows us to offer cross-institutional ERA placements, that provide students with research experience from institutions other than their alma mater. Our aim is to help our alumni build research networks and to support higher education institutions to retain diverse talent and improve the transfer of knowledge throughout the sector. We are due to roll out cross-institutional placements; watch this space!"
Speaking on the summit, Mohani said "Today has been incredibly insightful and allowed me as an educator and curriculum developer to consider how my content will help set students on a path to success. Organisations like BIG South have helped shine a light on SMEs, this support has helped to bolster our credibility in a crowded industry".
Recent posts