CiviCon22: St Mary's University transforming lives and industries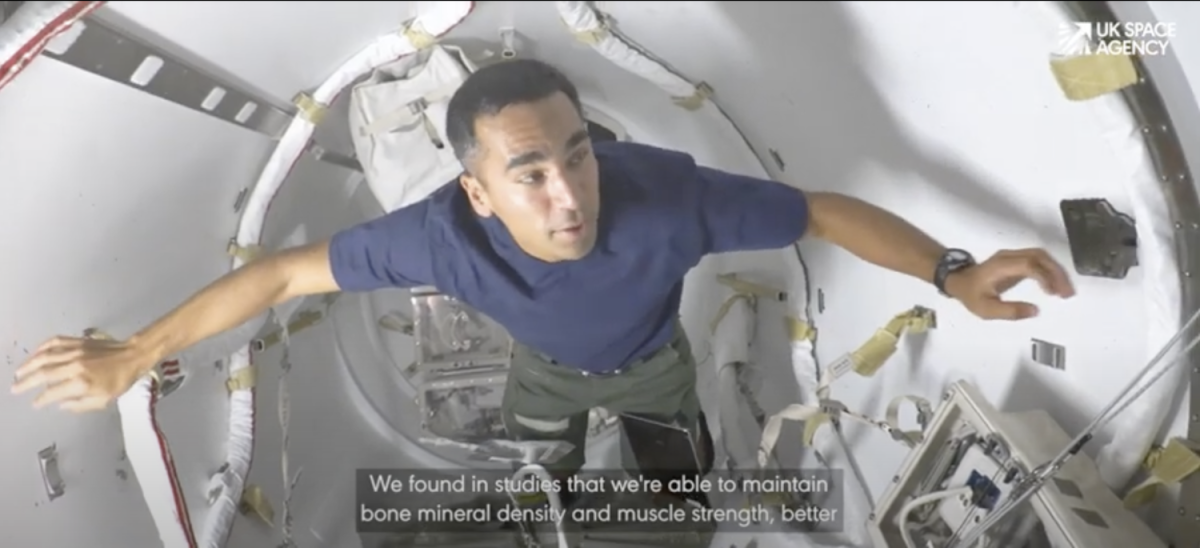 CiviCon22 is a celebration of universities working in partnership to support the civic movement, and how they impact the success of the place in which they are located.
Universities play a key role in teaching and research, but they can also have a significant impact on socio-economic, cultural and environmental wellbeing locally, and nationally. This year's CiviCon is a week of events from 13-16 June that aims to provide an understanding of the key policy landscapes within which universities can have influence and shape future collaborations.
St Mary's University, Twickenham London is leading the way with a diverse range of projects which will have a lasting impact on local communities and on industries. Here are just a few examples.
HIFIm: mechanical exercise system for astronauts in zero gravity
Astronauts can lose as much as 10% of bone density during six months in space, according to NASA, because there's no gravity for their bodies to push against. As a preventative measure, they exercise for two hours a day, at least six days a week.
HIFIm was invented to reduce those gruelling workouts to just six minutes a day, by enabling astronauts to jump in zero gravity. HIFIm is a mechanical exercise system which can be used to perform many resistance-type exercises in zero gravity.
In the above video HIFIm inventor John Kennett talks to the UK Space Agency about HIFIm's recent parabolic flight campaign to test HIFIm in microgravity for future space exploration.
Modern slavery: pathways towards safety and recovery
This project investigates barriers to accessing support for British national survivors of modern slavery in the UK, identifying gaps in the support provided, and producing survivor and practitioner informed solutions to improve support services.
The Bakhita Centre for Research on Slavery, Exploitation and Abuse (BCRSEA), St Mary's University, Twickenham, along with the Wilberforce Institute, University of Hull and Justice and Care, are examining the dynamics behind the patterns of modern slavery in the domestic context; to identify barriers to support faced by British nationals, and to highlight interventions to support their recovery. This is one of five projects supported by the Modern Slavery Policy and Evidence Centre, investigating survivor support and recovery with the overall purpose to improve the policy surrounding survivor care in the UK, with each project focusing on a specific area.
Dr Carole Murphy, Director of the Bakhita Centre said, "Although awareness of the number of British nationals affected by modern slavery has grown in recent years, the specific needs of British Survivors have not been well understood. Our study aims to change that and produce clearer protocols for improved support going forward."
Blood flow restriction training for rehabilitation from injury
This research project has realised a significant and wide-reaching impact in the application of methods to both reduce the risk of injury in sports and performance contexts and aid rehabilitation when injuries occur. Research findings on the application of Blood Flow Restriction Training (BFR) have informed the development of organisational policy at the national level by the English Institute of Sport (EIS) and assisted with the development of guidelines for the application of this technique by governing bodies such as the Football Association (FA), Rugby Football Union (RFU), Lawn Tennis Association (LTA), professional sports teams (eg Sport Lisboa e Benfica), sports medicine hospitals (e.g., Aspetar), and international professional associations (e.g., American Physical Therapy Association).
Our research has also informed the application of rehabilitation techniques by global medical training companies for their clinical rehabilitation programmes in the USA with the Department of Defense (DOD) and the National Aeronautics and Space Administration (NASA).
The England and Wales Cricket Board (ECB) and Royal Ballet Company both now employ methods to quantify and monitor workload to reduce risk of injury. In parallel, the ECB have seen reduced injury rates on international tours, whilst the Royal Ballet Company have altered rehearsal and performance schedules in an effort to reduce the risk of injury and manage workload of dancers.
The Art of Dying Well
This Art of Dying Well was originally an initiative of the Catholic Bishops' Conference of England and Wales and the Centre has been based at St Mary's University Twickenham since 2018.
The mission of the Centre for the Art of Dying Well is to help people to live and die well and be supported in their grief.  It brings together many of the best minds, partnering with organisations and individuals to support and develop companionship and community in life and in death.
Turning research into tangible action is one of the principal ways in which we pursue our mission, alongside practical companionship; training and support for care givers; and engaging the public, shaping policy and changing the national conversation about death and dying.
Voices of the Dying Online, our ground-breaking research on the Internet and the end of life, carried out with Centre for the Analysis of Social Media at Demos, has collected over 100,000 internet posts to better understand where online discussions about death and dying are happening, what kind of help people are looking for, what support they receive, and what they still need. This research will contribute to the much-needed debate about how to die well and help improve public policy and practice.
LimbPower: from inactive to active following amputation
St Mary's, alongside leading charity LimbPower, are working on a project to engage amputees and individuals with limb impairments in physical activity, sport and the arts to improve quality of life and to aid lifelong rehabilitation.
The research project identified a significant gap between the time amputee patients are discharged from hospital and any follow-up at-home care, leading to many amputees experiencing mental health issues. This project has had a significant impact on clinical practice, as a result, a new job role in limb centres is now recommended, whereby a member of staff meets with amputees when they are discharged and during follow-up appointments with the aim to link amputees with supportive resources (eg charities such as LimbPower) to improve their health and wellbeing by enabling them to live an active life.
The project has also delivered biannual evidence-based Advanced Rehabilitation events for amputees at St Mary's University to enable them to lead active lives that are driven and supported by research findings.
Kiera Roche, Chief Executive Officer at LimbPower said, "The events are a huge success! They give people with amputation the opportunity to try a sport, to learn about sport, and to build relationships with others, which is critical in enabling them to lead active lives."
About St Mary's University, Twickenham
St Mary's has an established culture of research with dedicated hubs of excellence across theology, bioethics and emerging technologies, law and culture and sport. It is committed to supporting and working with businesses.
Read more about CiviCon22 series of online events on 13-16 June.
Recent posts