Escaping from limbo: changing South London's 'left behind' status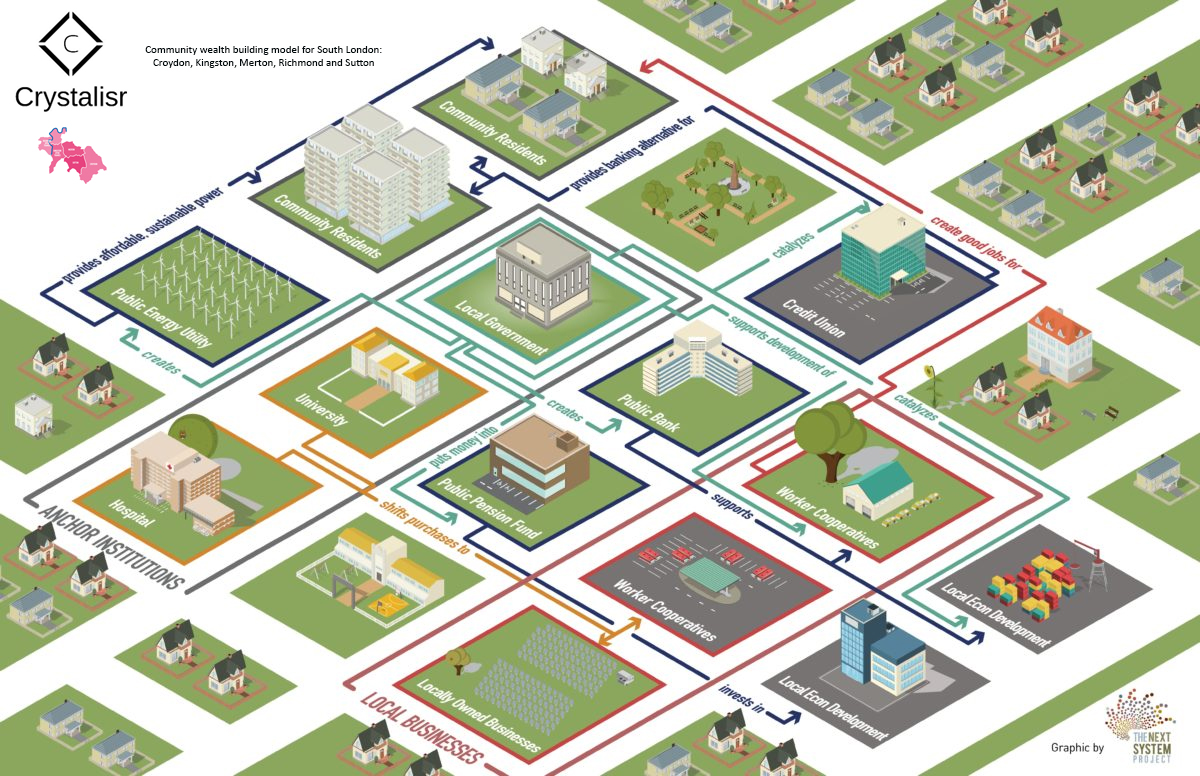 In the first of a series of blogs, David Randall, Founding Member of the Crystalisr Co-operative Society, a marketplace for SMEs to connect with anchor organisations in the supply chain in South London, gives his perspective on Government's Levelling Up Agenda could mean for South London businesses and residents.
As we tackle the cost-of-living crisis, South London faces multiple pre-existing and persistent economic and social problems – problems more severe than those threatening many of the official left-behind communities in the UK.
Efforts to build back from the pandemic, boost the green economy and tackle acute threats to safer neighbourhoods, to housing, and to health and wellbeing, are hampered by an equally acute funding shortage. Despite all the good intentions, South London remains in limbo.
In this blog I describe what this status feels like for South Londoners, what the causes are, and suggest what local collaboration can do to change the status quo and get us out of limbo.
The wrong reasons to be in the news
The local media buzzes with alarm about violence and anti-social behaviour, about the abuse of staff working in retail, and increasing levels of burglary, and vehicle and cycle theft, but we are constantly making the national headlines too due to young lives being taken by knife crime.
Local social housing became a national scandal in 2021. Speaking to ITV News in March 2021 about the tower block on Regina Road in South Norwood, Polly Neate, Chief Executive of Shelter said: "There isn't really any possible way that those properties are fit for human habitation… You can't overstate the level of stress and lack of mental wellbeing it causes for parents and especially for children."
The housing crisis, amplified by the pandemic, has spawned a new crisis in health and wellbeing. Chief Executive of the charity Kingston Advocacy Group (KAG), Sue Boakes, told me that pre-pandemic the Department for Work and Pensions (DWP) was working its way through a backlog of 350,000 applications for Personal Independence Payments – the new Disability Living Allowance. By January 2022 the backlog had increased 10-fold to 3.5 million applications. Whilst the DWP is failing to cope with its casework, KAG's burgeoning numbers of clients are going without the payments they need to keep them alive.
The Funding Limbo
South London needs urgent funding both to reduce the level of inequality, and to tackle the climate and air quality emergencies declared by all five Boroughs in the sub-region.  Given that we have one of the most centralised economies in the developed world, the sub-region relies on central government to provide those funds, but the money needed is not getting through.
Of the £220m allocated by government in 2021 from the Community Renewal Fund intended to mitigate some of the cuts due to Brexit before the arrival 'later' of the £2.6bn Shared Prosperity Fund, the government's geopolitical priorities have all but excluded London which got just £3.8m for 6 projects.
None of these were in South London.
No projects were awarded to us either from the Community Ownership Fund.
From the first tranche of Levelling Up Fund funding which reached London, £65m, no projects were awarded to the SLP Boroughs.
Amidst the current political turmoil and mindful that Covid has emptied the exchequer, nervous eyes are focussing now on the rest of the £4.8bn Levelling Up Fund, how much of it will be allocated, and when, and if, the Shared Prosperity Fund will be announced.
Time to change the status quo
So, we get very little public funding.
There are those geopolitical reasons why the system is working against us, but a glance at the map below will show why, even in terms of the limited funding for London, we are a poor relation.
Local government reforms have left us in no man's land.  Rooted in Surrey and on the periphery of Greater London, we are remote from the Mayoral authority and Local Enterprise Partnership, which in truth is more concerned with the future of the commercial centre of London, inner city issues, Transport for London, and tourism.
Rooted in Surrey and on the periphery of Greater London, South London sub-region is in funding limbo.
5 Boroughs of the SLP superimposed on a map of old Surrey.
However, there are ways to change the status quo.
In the first place, given the scale of the crisis that we are facing, the SLP will ramp up its appeal directly to central government for our share of the Levelling Up and Shared Prosperity funding that the rest of the country is also depending on. Our need is just as great, if not more, and we can evidence this, as if any more evidence were needed.
Secondly, we can support national initiatives to provide new money for communities or help cut costs, such as the Local Trust's campaign for a Community Wealth Fund, the campaign for business rates reform, and campaigns for lower VAT for the hospitality sector and for affordable energy and a realistic energy price cap for homes and businesses.
Thirdly, we should accelerate the implementation of a policy of community wealth building, asking our own anchor institutions to take a conscious, networked approach to reinvesting as much of their procurement spend as possible into the local economy. In so doing we can mirror the tremendous success of the City of Preston, predicted to have the fourth highest projected GVA growth in the UK at the end of 2022. Crystalisr Co-operative Society and its associated digital platform was founded to bring the stakeholders together to promote community wealth building in South London. The platform co-operative, supported by its partners and investors, is poised to offer an essential service, and divert money into a local community wealth fund.
Whilst community wealth building has been proven to work, we can do much more.
We do have large and powerful anchor institutions in both public and private sectors, but it is time for all citizens to embrace change and to let go of some of the ideas of success that we had in order to tackle inequality, and to step forward into a better, more sustainable future. And in the words of Jon Alexander of the New Citizenship Project, in the age of the citizen, local authorities can then do more of what they are best at. They can enable, rather than deliver or command.
In South London we can unleash the power of 1.16 million citizens with participatory reforms that respect what they are capable of – that empower them to move from old ways of consumption to become active agents for change – and together we can escape from this limbo. We can be a place where citizens, businesses and anchors together create a new identity, and a new narrative of what it means to be South Londoner.
Recent posts