Exciting plans announced to transform old BHS store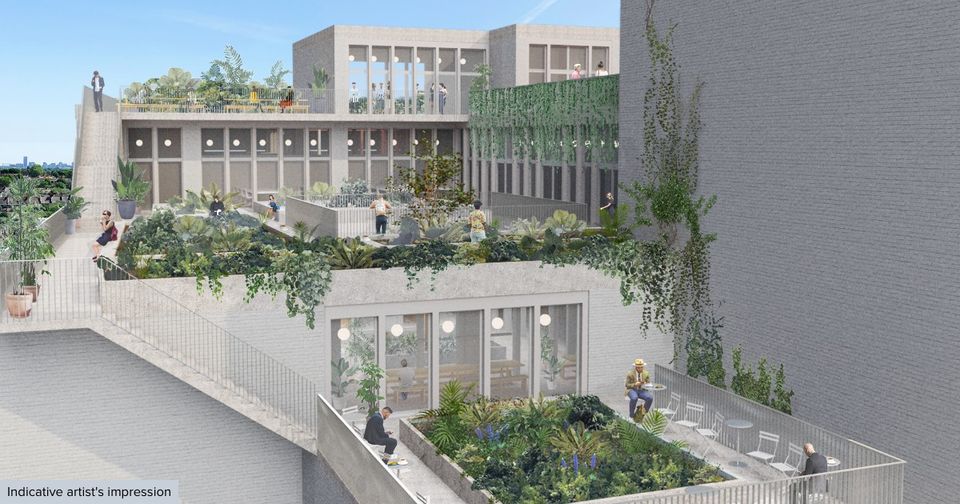 Sutton Council and Oru Space have announced plans to transform the upper floors of the old BHS store in the town centre into Oru Sutton – a space for co-working, wellbeing and hospitality.
Oru Sutton will offer 500 desk spaces, 40 private offices and new places to eat and drink. There will be room for established businesses, start-ups and individuals, offering a place for companies of all sizes to thrive and grow in Sutton. Two wellbeing studios, open to the public and Oru Sutton members, will offer classes that focus on good mental and physical health.
The exciting new space is expected to open in 2023, with opportunities for residents and potential users to visit the space and input into Oru's developing plans throughout 2022.
A rooftop area offering panoramic views of Sutton and across London will feature a community-led garden and greenery designed to support wildlife. The Council and Oru are working with Age UK Sutton and local schools to create and care for the garden, helping tackle social isolation while creating a space that can be enjoyed by all visitors.
Oru will offer subsidised spaces for charities and community groups. They will also run initiatives to support local businesses, in line with their commitment to the new venue being an inclusive space and a key part of the local community.
Oru Sutton is part of the Council's plans to create a vibrant and sustainable town centre with great culture, food, shopping and modern flexible working. After buying the disused department store in 2019, the Council won a total of £2.2 million external funding from the Mayor of London's Good Growth Fund and the BIG South London programme to create a modern workspace above. It appointed Oru to design and operate the space last year.
The Council has also secured a further £11.35 million from the Government's Future High Streets Fund to deliver four other projects that will transform the town centre, support culture in our borough and boost Sutton's economic recovery from Covid-19.
The Council recently announced that the first project to be delivered with the funding will be Throwley Yard – a new cultural hub in the former Chicago's nightclub, which will be brought back to life after standing empty for nearly 10 years. Throwley Yard will feature flexible spaces for cinema, live performances and a food hall.
The Council has already delivered the transformation of Market House, which houses a community hub and the Sound Lounge live music venue. Last year it bought the St Nicholas Centre, helping to ensure the town centre's future by giving the Council greater control over a key landmark on the High Street.
Councillor Jayne McCoy, Deputy Leader of Sutton Council, said: "This is another big step for Sutton town centre. Following the pandemic, lots of us are exploring new ways of working and looking after our physical and mental wellbeing. Oru Sutton will give people somewhere to do this in the heart of Sutton, bringing new people and businesses to our high street and providing the opportunity to stay local to work and have fun.
"By creating cultural venues like the Throwley Yard and the Sound Lounge and modern workspace for businesses to grow, we are helping to guarantee a bright future for our town centre. I'm proud of that, and excited to see it become a reality."
Paul Hepworth Nelmes, Co-Founder of Oru, commented: "Oru create bustling and energetic spaces that bring life back to high streets. Bringing our best-in-class food, workspace and wellness classes to Sutton gives us an amazing opportunity to share this with more people and bus
Recent posts