Meet the graduate helping NURVV get their products off the starting line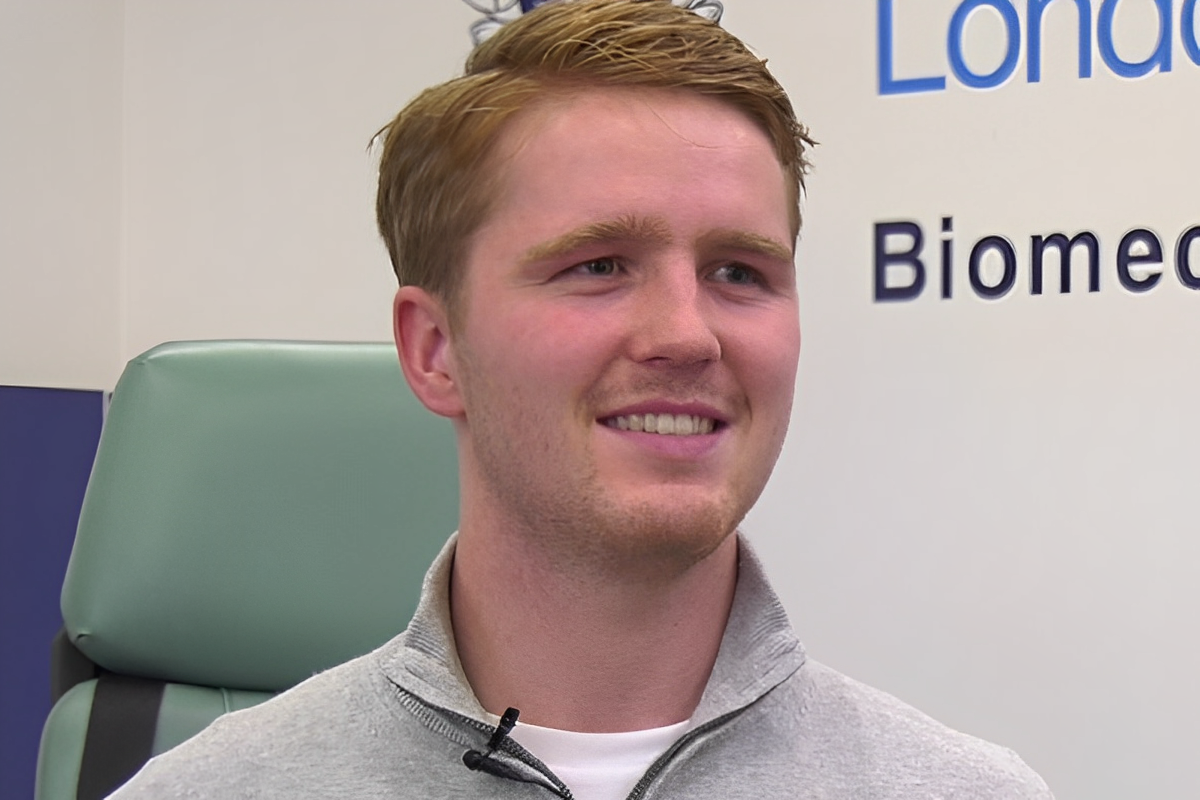 Upon completing his Masters in Sports Biomechanics, Hamish Bull was eager to transition his academic expertise into practical application. He reconnected with Alex Atack, Senior Lecturer in Biomechanics at St Mary's, to explore how he could bring his research to life in a real-world application. Through Innovate UK's Knowledge Transfer Partnership scheme, Hamish worked closely with health tech innovators NURVV, to advance the development of their wearable health and wellbeing monitoring device.
We caught up with Hamish to discuss the collaboration and how his knowledge and insights are being used for good.
Tell us about the project itself
When we started out on this project, the main application of the insoles was in the performance analysis of a runner's technique, translating insights measured through the sensor's insoles into coaching guidance and advice. This project, however, was broken down into two separate phases, transitioning to explore different applications of the insoles across the health sector.
The first area we looked into was how the technology could be integrated into return-to-play protocols in the sporting context. So, we were looking to explore whether data from the insoles could give doctors, physiotherapists, and nurses etc, metric indication that athletes were ready to return to sport following an injury.
Another avenue for exploration was within the med-tech field, looking at new applications for patients with diabetes. These patients are statistically at greater risk of developing foot ulcers as a result of the condition, so we aimed to investigate if the insoles could accurately monitor foot pressures to aid in the development of treatment plans.
And what were some of your main responsibilities as the Knowledge Transfer Associate (KTA)?
No two days were ever the same, and the role expanded as the project progressed into the data collection phase. At the beginning of the project, I did a lot of reading about other smart insole projects – what they did, how they did it, and some of the initial findings that others had previously concluded. This gave us a strong foundation and informed us of the potential metrics we could collect through our own study and, most importantly, what they could indicate.
From this point, my role changed as we began designing the protocols for collecting this data, piloting it to check if the methods worked, and eventually getting into the lab to work with.
You mention 'getting into the lab' – how does that differ from the research element of your role?
Being in the lab is about applying the findings from the research stage to a real study. We spent a lot of time piloting the research to check that the method worked, tweaking certain aspects as we went along to see what impact that had on outcomes. One of the challenges we faced is that we were comparing metrics from the insoles, which have 16 sensors on each foot, to lab standard pressure mats, which have more than 100.
And what were some of the results from this research?
While initial findings showed positive trends, indicating that we were heading in the right direction, it was clear that they weren't quite where we wanted them yet. It wasn't a simple case of "that's it!" but that's what this is – this is research and development. So now that the project has moved into the development stage of trying to improve those numbers, to make them as accurate as possible and applicable in the field, it's a hugely exciting time for the team.
Where is the project at now?
Research is ongoing, but there certainly is scope for NURVV's technology to benefit other members of society. In that respect, our initial goal of exploring alternative applications for this technology has been a success.
How would you say that your role as the KTA has benefitted NURVV?
I would say that having a new perspective, or at least a different perspective on approaches and problems they might have had, is one of the most beneficial aspects of the partnership. It's easy to develop tunnel vision when working on projects like these, where the process is so research-intensive that after a while, you almost develop a blindness to new schools of thought. Having fresh eyes with new perspectives on hand to offer solutions and responses which might not have otherwise been thought up is incredibly useful.
But I would like to add that this hasn't just been a one-sided relationship – it's been beneficial not only for NURVV but also for me too. While working with the team, I've developed new skills, one of which is Python, a widely recognised coding language used in developing sectors like AI and machine learning.
What's next for yourself and NURVV?
So, the formal partnership between myself and NURVV in the Knowledge Transfer Associate capacity has wound down, but the project itself is in a great place moving forward. The final report on the diabetes study has been submitted, and we will schedule some time to talk that through soon.
I'm now exploring the options of studying for a PhD at St Mary's. As for the subject matter, whether it's in biomechanics or another field is yet to be decided, but working with the team at NURVV on this project has been a pleasure. I certainly wouldn't rule working with them again out!
Innovate UK's Knowledge Transfer Partnership programme is open for its next round of applications.
Recent posts