Meet the women designing the future in South London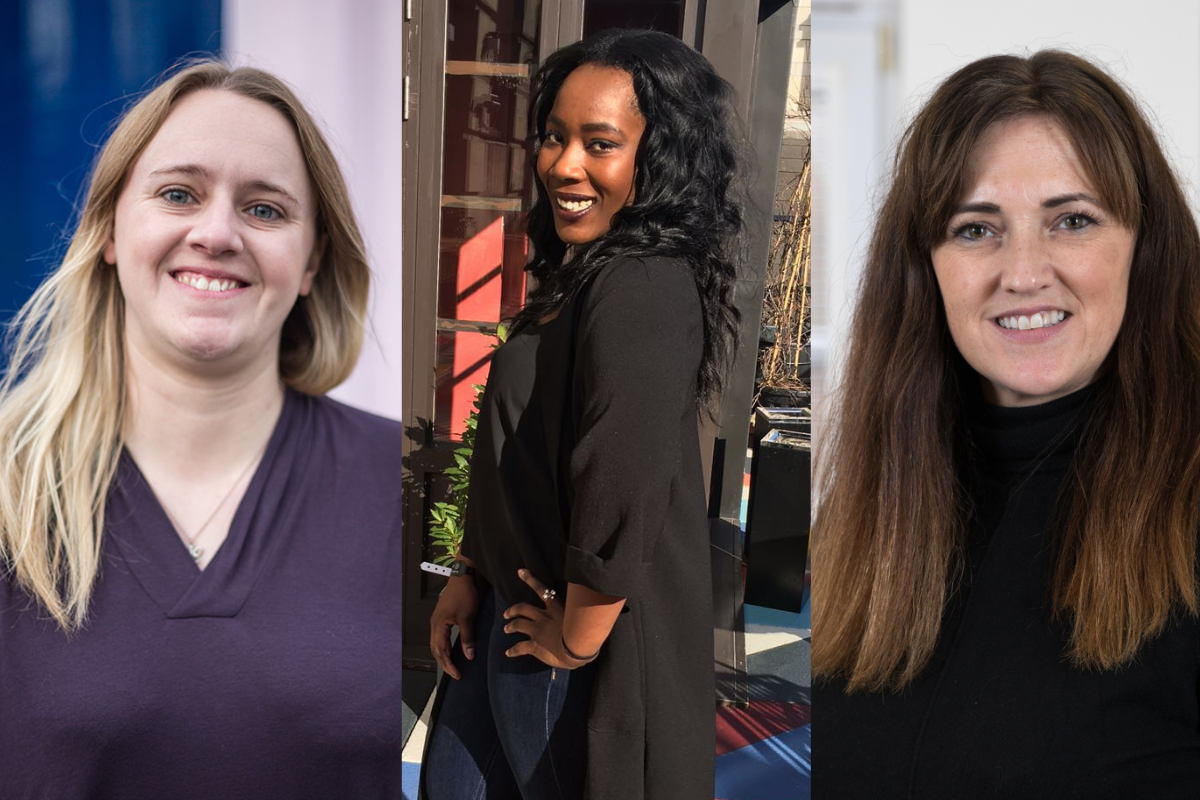 (From left to right: Alex Atack, Sarah Mensah, and Saffron Saunders)
International Women's Day (8th March) provides an opportunity to shine a light on the achievements of women around the world. In my role as Programme Co-ordinator for BIG South London, I'm privileged to meet some of the female founders, business leaders and academics that make up our ecosystem, and their energy, ideas and leadership always inspire me.
The theme of this year's International Women's Day is Embracing Equity, with the organisers challenging us to imagine a gender-equal world. A world free of bias, stereotypes, and discrimination. A world that's diverse, equitable, and inclusive. A world where difference is valued and celebrated.
We caught up with some awesome women in South London to find out what this means to them. In different ways, they are all designing the future, whether that be through academia and encouraging more women in STEM subjects, innovative new product and service development and providing the right support to ensure that female founders can reach their potential.
Sarah Mensah is the founder and CEO of LN+B, a beauty subscription marketplace that doesn't just sell products. It is a two-sided marketplace that also supports those offering their services and products.
"Can you imagine what it would look like if women in the workforce were treated fairly? For me, it's empowering to know that I'm setting up LN+B with that as a starting point. It is a hub for the beauty space where you can learn, build your business, network, and collaborate. And as a woman, you can do that confidently with our full support".
"It's an internal struggle being a mum and having a career. When I'm a mum, I'm expected to be able to do everything. Whilst in my career, I'm expected not to have any outside distractions. From a female perspective, the juggle of work and life is something that I am addressing with my business."
"There is no blueprint on how to be female, a mum or a woman in business. You might be making this up as you go, and that is absolutely fine! There should be no guilt and you shouldn't feel like you're imposing on anyone. Women should feel empowered to be free to be themselves with no stigmas."
"As females, we need to take up space and not be afraid to do so; we need to inspire change in everyone. By embracing equity, we can all benefit – now and for the future generations."
Alex Atack is the Senior Lecturer in Biomechanics at St Mary's University and has worked collaboratively with BIG Hot-House participants, NURVV, to develop its innovative sports tracker.
"In terms of women in STEM and academia, St Mary's actively encourages the widening of participation by opening up doors to students that wouldn't naturally come into higher education. That does pose challenges because you've got people coming with very different backgrounds, experiences, and skills. In traditional academia, the way to teach is through lectures, which is more about equality: giving everyone the same information, sending them away, and off you go, let's see how you do. That obviously doesn't work for everyone, and that's not fair – that's not equitable."
"There's definitely been a move towards practical-based workshops and seminars where you can work with smaller groups. That is what enables individuals to develop as they need or want to." 
"Naturally, you'd think of the STEM disciplines as a hugely male-dominated area, but what we're seeing is a good proportion of women also interested and engaged in the subject. We are very much a female-strong department at St Mary's, and our students can see that there is a career for them to follow in this subject and that in itself is inspiring for them."
"There are so many opportunities out there for women in STEM and making the most of those is so important. Find ways to develop yourself: with programmes like the Aurora Leadership Programme and Athena Swan Charter, the number of personal development opportunities has just skyrocketed."
Saffron Saunders is CEO of Start-Up Croydon, which provides business support programmes, events and flexible workspaces for Croydon's start-up and business community.
"Croydon is an incredibly vibrant and enterprising Borough. There aren't very many big employers, which propels people to start their own ventures."
"I'm seeing lots of female entrepreneurs coming through. For our upcoming accelerator programme – 8 out of the 12 participants are women – which is so exciting to see. These are strong, fierce women, looking to gain some confidence in how to get their business started, but also a community to do it in."
"We need to do more to create an equal playing field for men and women so that women can grow in their careers and reach the same heights as men. It's still very difficult for female founders to raise investment and that won't change until we see more female investors."
"You don't need to have a formal education to be able to start a business. There's room for people with all sorts of different backgrounds to be successful. I myself didn't do a degree, I've got to where I am through sheer hard work and determination."
"Having lived in South London all my life, I'm proud to be the first female CEO of Start-Up Croydon. I'm designing the future of business support with the needs of female founders very much front and centre. If you're starting a business, don't do it alone. Get in touch, there's lots of support and a strong community waiting to welcome you."
Here at BIG South London, we're committed to supporting female founders. Our business support programmes are free to take part in and run flexibly online – making them accessible to as many people as possible. They will support you on everything from branding and pitching to raising investment and winning more business.
We also have specialist networks for the Creative, Health and Low Carbon sectors, which provide a space to share opportunities and challenges and get support in your sector.
Recent posts